Costa Pizza restaurant, established in 2012 in the heart of New Haven, CT, is a family-owned business. We are proud to serve mouth-watering and authentic Italian pizza and pasta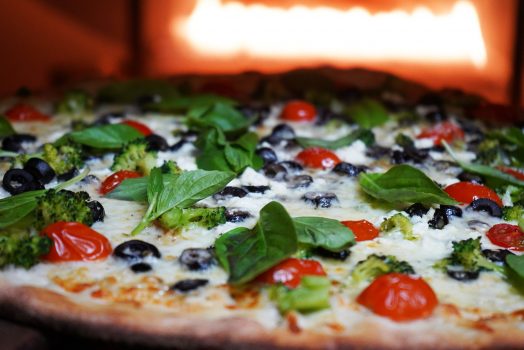 The team at Costa Pizza are experts in catering. Every menu item is available for our catering services and is guaranteed to taste as fresh and appetizing as it looks. We have served many large groups in the community including customers from Yale University and the surrounding businesses for meetings and other special events. Upon request, we can also serve your business for lunch on a daily basis with Italian food catering.
Costa Pizza is one of the leading Italian restaurants in New Haven serving vegan pasta and other vegan Italian food from some of the best vegan brands on the market. We offer options such as:
Costa Pizza restaurant is one of the best in New Haven, CT, serving Italian salad. All of the ingredients are crispy-fresh and made on the spot. We offer a wide variety of salads, which means you can eat a different salad every day of the week! We insist on the freshest lettuce, grape tomatoes, cucumbers, mushrooms, avocado, Kalamata olives, tuna, walnuts, sun-dried fruits, almonds, and artichoke hearts for use in our salad recipes along with fresh-grilled chicken, tuna, and smoked salmon. We also provide vegetarian salads including our Caprese Salad and Costa Salad Caesar and vegan dressing options, too! All salads are served with our homemade garlic knots.
Costa pizza brings you the authentic taste of genuine Napolitano Italian pizza, homemade from scratch with high-quality ingredients. We're famous for our thin crust! The secret to giving our pizza that delicious smoked flavor is our brick oven. Don't forget! Our vegan pizzas allow you to enjoy the authentic taste of Italian pizza. And you can order our pizza for dine-in, pick up, and delivery.
Costa Pizza's cold and hot subs are made with fresh, top-quality ingredients and we give you vegan options, too. Our selection of cold cuts includes turkey, ham, and tuna. Our hot subs include Philly steak, sausage & peppers, pastrami, Angus burger, grilled chicken, chicken cutlet, shrimp pram, meatball, and eggplant.
Costa Pizza has a wide variety of wraps and paninis on the menu. All are made fresh and before we serve a panini, we put it in the panini grill to make it hot and crispy. Our selection of paninis and wraps includes:
We are wings experts! Wings are one of our biggest sellers thanks to our many flavor choices. We use fresh wings, never frozen, and we don't add flour or other additives. When it comes to wings, our motto is, " Simple is the Best." Our wings flavors include:
Each order of wings is served with celery and blue cheese
Costa Pizza is one of the favorite local pasta places in New Haven, CT. We feature many kinds of pasta, all freshly made after you order. Some of our most popular dishes include pasta marinara, rich with basil and garlic, pesto pasta with pesto sauce, penne arrabbiata, penne ala vodka, spaghetti Caprese, fettuccine alfredo, costa veggie pasta, and many more mouth-watering pasta restaurant dishes.
We have a lot of delicious homemade chicken dishes made fresh to order. An easy choice is our best-selling chicken parmesan topped with delicious marinara sauce, mozzarella cheese, and parmesan cheese. Also, give our new chicken Cajun alfredo dish a try!
Costa Pizza seafood pasta dishes are freshly made with top-quality ingredients. We recently debuted our shrimp Cajun Alfredo that's a must-try for seafood lovers. We also prepare fresh shrimp parmesan, clams pasta, shrimp scampi, and Costa seafood pasta.

Happy Customers!
"Pizza the way it should be! Delicious thin crust, loaded with sauce, cheese, and toppings. A traditional New York style pizza the way I remember it."
- Geroge Lotridge
"I've experienced nothing but the best service and absolutely great food from here. They are very personable with everyone and they tend to remember what you like. If I could give more than 5 stars, I would."
- Marly Montanez
"Absolutely love Costa! Definitely our favorite pizza place in new haven. They offer a HUGE array of VEGAN options along with the regular menu. The staff is kind and thoughtful and the pizza is always awesome! And great crust!! Do yourself a favor and go to Costa!"
- Kay Pelletier
"Great pizza. Open until late. Nice people. The delivery is always fast. Inexpensive."
- Angel Garcia
"The vegan grinders are amazing! My family says that all of the other food is delicious too. Very friendly service."
- Ean Pringle